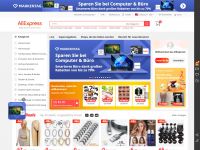 Trading platform AliExpress in Germany
Catalogue of online stores in Germany: reviews, delivery, information.
Category: Trading platforms, e-commerce
Name
AliExpress
Country, address
Hangzhou, China
Customer ratings AliExpress

0 out of 5 based on 0 rankings and 0 reviews.
View and/or add reviews, customer ratings
Store link

Go to AliExpress website

Delivery to Germany
The AliExpress delivery time and shipping costs depend on each individual seller and on their location. Thus, the delivery of goods may take from several days to two months. Shipping fees differ a lot as well, so it makes sense to compare the terms of goods sale from different merchants.
Delivery methods
Payment methods

Visa credit card
MasterCard credit card
Transfer to an account in Germany
Western Union transfers
American Express credit card

List of goods
For a list of goods, see the section of goods on our website or in the online store proper.
Description of the AliExpress online store:
AliExpress is a marketplace in China that, like E-Bay and Amazon, organizes online sales of goods by various small and large sellers. The AliExpress trading platform website has a full version in German and, among others, sells goods to the residents of Germany, offering suitable payment methods to this purpose.
Just like on other platforms, payment for the goods is made by the buyer in AliExpress, which passes it on to the sellers; however, the buyer receives goods directly from the sellers trading on this site. AliExpress have their own buyer protection program, so, in case of non-receipt of goods or problems with the goods, buyers can use this program and request a refund.
Goods on the AliExpress trading platform are sold by retail and in small wholesale; the sellers registered on the site come not only from China, but also from other countries of the world. The prices for the goods are usually much lower compared to those of their counterparts in Germany.
When buying goods on this trading platform from Germany, pay attention to the fact that for certain goods and for the purchase of goods above the established maximum amount, you will have to pay a customs fee. In some cases, you will have to go to the nearest customs office to pick up the parcel. Moreover, in case of returning the goods, the buyer will have to pay rather a large amount for sending the parcel back to China.
The owner of this online platform also has the Alibaba.com trading platform on the Internet meant for entrepreneurs and firms, and therefrom you can buy goods in bulk at wholesale prices.
AliExpress online store product categories:
Electronics, computers
Accessories
Sporting goods
Homeware
Souvenirs
Stationery
Clothes, shoes
Reviews, customer opinions about the AliExpress online store
- There are no reviews at the moment, be the first to review! -