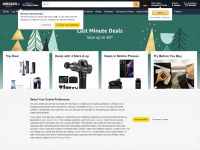 Trading platform Amazon in Germany
Catalogue of online stores in Germany: reviews, delivery, information.
Category: Trading platforms, e-commerce
Name
Amazon
Country, address
München, Germany
Customer ratings Amazon

4 out of 5 based on 3 rankings and 3 reviews.
View and/or add reviews, customer ratings
Store link

Go to Amazon website

Delivery to Germany
The site offers many delivery methods, express delivery is possible for an extra cost
Delivery methods

Deutsche Post
DHL
DPD
Hermes
Express delivery

Payment methods

Visa credit card
MasterCard credit card
By invoice upon receipt of goods
Withdrawal from the account by the seller (Direct debit)
Voucher, Gutschein

List of goods
For a list of goods, see the section of goods on our website or in the online store proper.
Description of the Amazon online store:
The world-famous Internet site is also available in Germany and has been actively developing on the country's market for over 20 years, has logistics centers in most major cities. There are dozens of product categories on Amazon, including: video and music, computer programs/ software and books, electronics, as well as household goods, clothing, toys, groceries, and more.
This e-commerce site time and again offers discounts and sales, and you can get price reductions when you regularly buy the same commodities.
In Amazon Germany, you can register as a seller and sell both new and used products. Therefore, this site is used by many entrepreneurs-sellers in Germany. The packaging and dispatch of goods can be done by the seller or Amazon, the payment is credited to the trading platform account and is then transferred to the seller.
Amazon online store product categories:
Books
Homeware
Cosmetics for women, men and children
Animals
Audio, music
Sporting goods
Dishware
Electronics, computers
Goods for kids
Cars, spare parts, tires
Accessories
Software, games, e-books
Jewelry
Furniture
Videos, films on CDs and DVDs
Clothes, shoes
Stationery
Plants, seedlings
Reviews, customer opinions about the Amazon online store
5

Покупаю только в Амазоне

(in Russian)

Раньше я всё покупала на eBay, а затем несколько лет назад перешла на Амазон и теперь покупаю только там, почти всё: и технику и посуду и товары для дома. Доставка обычно бесплатная и быстрая, проблем с возвратом тоже нет. Всем рекомендую!

1

Недоставку заказа и отсутствие возможности связаться

(in Russian)

Заказ сделала 11.10 в Германии. Сначала написали, что он будет доставлен 16.10. Потом - что м.б. задержка на 2 рабочих дня. А сейчас я вообще не могу зайти в свой профиль, они все время пишут, что неправильный пароль, пытаюсь сменить пароль, они пишут, что отослали код на мой телефон, но никаких сообщений не приходит. Что творится?! А деньги к ним ушли уже давно. Мне уже не надо ничего, как деньги вернуть?

5

Товары

(in Russian)

Gut. Хорошие товары.