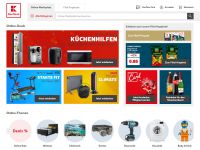 Online trading platform Kaufland in Germany
Catalogue of online stores in Germany: reviews, delivery, information.
Category: Trading platforms, e-commerce
Name
Kaufland
Country, address
Neckarsulm, Germany
Customer ratings Kaufland

4 out of 5 based on 3 rankings and 3 reviews.
View and/or add reviews, customer ratings
Store link

Go to Kaufland website

Delivery to Germany
Payment methods are offered and the payments per se are received by the trading platform; however, each seller on this trading platform have their own terms of sale and delivery of goods.
Delivery methods
Payment methods

Transfer to an account in Germany
PayPal
By invoice upon receipt of goods
Withdrawal from the account by the seller (Direct debit)

List of goods
For a list of goods, see the section of goods on our website or in the online store proper.
Description of the Kaufland online store:
Kaufland, one of the largest grocery supermarket chains in Germany, have their own online trading platform, an online e-commerce marketplace where both Kaufland themselves and more than 7,000 sellers from around the world offer a variety of goods, including electronics, household goods, furniture, goods for sports, health, entertainment and much more.
Every seller on Kaufland.de have their own terms of selling goods, including the countries of delivery and the time of shipment as to the goods ordered. The payment process is organized by the trading platform itself, providing an opportunity to pay for the goods centrally via PayPal, a bank transfer or other methods, but the goods are transmitted by the sellers trading through this platform. Thus, when buying on this trading platform, pay attention to who the seller is, in which country s/he is located, how long it will take to deliver the purchased goods, the commodity return conditions, and what reviews about this seller are available on the Internet.
In total, the online platform offers over 20 million items of goods distributed into several thousand categories.
Kaufland online store product categories:
Electronics, computers
Cosmetics for women, men and children
Clothes, shoes
Accessories
Homeware
Stationery
Sporting goods
Goods for kids
Dishware
Reviews, customer opinions about the Kaufland online store
3

Телевизор Sharp 50FL1EA

(in Russian)

Добрый день. Купил телевизор Sharp 50FL1EA в Kaufland. Проблема в пульте управления. Звук могу только добавлять. Убавить звук не получается. Может кто-то сталкивался с проблемой. Подскажите что можно сделать?

5

Haushaltsgeräte

(in Russian)

Schreiben Sie mir, wohin die Lagerbestände aus den Geschäften entnommen werden (Produkte nicht verkauft, beschädigt, ohne Verpackung)+4915153596119

4

Покупки на торговой площадке Кауфланд

(in Russian)

Лично я покупал не раз товары но еще тогда, когда эта торговая площадка принадлежала магазину Real.de пару лет назад, посылки приходили вовремя, вообщем проблем не было. Как сейчас обстоят дела сказать не могу, но думаю ничего не изменилось, только хозяин магазина поменялся.