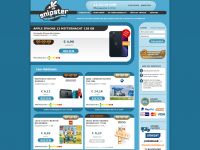 Pay-per-bid online auction, Pennyauktion Snipster in Germany
Catalogue of online stores in Germany: reviews, delivery, information.
Category: Trading platforms, e-commerce
Name
Snipster
Country, address
Neumünster, Germany
Customer ratings Snipster

0 out of 5 based on 0 rankings and 0 reviews.
View and/or add reviews, customer ratings
Store link

Go to Snipster website

Delivery to Germany
Delivery is carried out by online stores offering their goods on this site, delivery methods depend on the seller
Delivery methods
Payment methods

Visa credit card
MasterCard credit card
Transfer to an account in Germany
PayPal

List of goods
For a list of goods, see the section of goods on our website or in the online store proper.
Description of the Snipster online store:
The scheme of selling at this auction is as follows: bidding starts from zero and a certain time period during which this product can be sold. Buyers increment the price by 1 cent, for which they pay 50 cents and thereby increase the selling time period by 1 minute. The last one to raise the price is the one who buys the product. The money paid for the bid increment is not refundable.
This auction differs from conventional auctions such as eBay and is more like a gamble than an auction. There you can either buy an expensive product for a couple of euros, or muddle away a lot of money.
Snipster online store product categories:
Electronics, computers
Accessories
Homeware
Cosmetics for women, men and children
Reviews, customer opinions about the Snipster online store
- There are no reviews at the moment, be the first to review! -