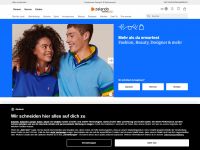 Trading platform Zalando in Germany
Catalogue of online stores in Germany: reviews, delivery, information.
Category: Trading platforms, e-commerce
Name
Zalando
Country, address
Berlin, Germany
Customer ratings Zalando

1 out of 5 based on 4 rankings and 4 reviews.
View and/or add reviews, customer ratings
Store link

Go to Zalando website

Delivery to Germany
Delivery is made by Deutsche Post DHL throughout Germany
Delivery methods
Payment methods

Visa credit card
MasterCard credit card
Transfer to an account in Germany
PayPal
By invoice upon receipt of goods

List of goods
For a list of goods, see the section of goods on our website or in the online store proper.
Description of the Zalando online store:
This trading platform offers all types of clothing and footwear, as well as accessories for both men and women and children: dresses, skirts, jeans, trousers, shirts, sweaters, dozens of types of shoes, as well as clothing and accessories for sports. The accessories that are offered on this e-commerce site include: bags, belts, watches, sunglasses and bijouterie.
Here you can find clothes by the most famous brands such as Adidas, Esprit, Nike and many others, as well as products at low prices from e-tailers and handmade clothes by private craftspeople who sell them on this site.
The Zalando e-commerce site is represented in many European countries, offers many types of payment and delivery of goods. A distinctive feature is: free delivery and return of goods, as well as a special type of guarantee provided by this trading platform: a long-term guarantee for the return of goods in case they have not been used.
Zalando online store product categories:
Goods for kids
Accessories
Jewelry
Clothes, shoes
Cosmetics for women, men and children
Sporting goods
Reviews, customer opinions about the Zalando online store
1

Обман и мошенничество

(in Russian)

Не советую делать покупки именно в Заландо, сайт мошенников и обманщиков

1

Calzedonia Legins Hosen

(in German)

Ich habe vor 25 Tage eine Hose bestelt. Bis jetzt ich haber meine Pakete nicht bekommen aber Zalando wollte ihre Geld zu haben und noch Mahnunghat geschikt mich, dass ich mehr Geld muss bezahlen.

1

Варежки

(in Russian)

Заказали варежки,были маленькие вернули их,пришли письма что нет возврата хотя он есть,так вот ,не РЕКОМЕНДУЮ делать покупки на заландо

1

Оформление возвратов на Цаландо

(in Russian) Отправила вещи назад в идеальном состоянии.. через год начали писать сто раз...что не оплачен заказ и якобы вещи толи не пришли назад, или грязные
. Полный развод на деньги чушь. Не покупайте чтобы не попасть как я через интернет.