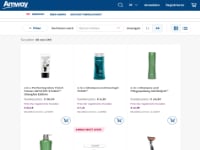 Amway products Amway in Germany
Catalogue of online stores in Germany: reviews, delivery, information.
Category: Online stores in Germany
Name
Amway
Country, address
Puchheim, Germany
Customer ratings Amway

5 out of 5 based on 3 rankings and 3 reviews.
View and/or add reviews, customer ratings
Store link

Go to Amway website

Delivery to Germany
Delivery methods
Payment methods

PayPal
By invoice upon receipt of goods
Withdrawal from the account by the seller (Direct debit)
Google Pay

List of goods
For a list of goods, see the section of goods on our website or in the online store proper.
Description of the Amway online store:
The Amway American company Germany-based representative office has their own online store offering on their website the sale of their own-produced products, including household chemicals, hygiene products, nutritional supplements, water filters, dishes and much more.
Amway online store product categories:
Homeware
Medicines, health products
Cosmetics for women, men and children
Reviews, customer opinions about the Amway online store
5

Парфюмерия

(in Russian)

Отличное качество

5

Товары для дома и Косметика

(in Russian)

Отличное качество

5

О подписке

(in Russian)

Я бы хотела подписаться и стать НПА. И покупать продукцию Amwаy по оптовым ценам