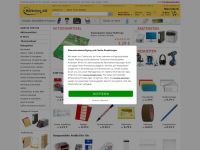 Stationery and office supplies Büromarkt Böttcher AG in Germany
Catalogue of online stores in Germany: reviews, delivery, information.
Category: Online stores in Germany
Name
Büromarkt Böttcher AG
Country, address
Jena, Germany
Customer ratings Büromarkt Böttcher AG

0 out of 5 based on 0 rankings and 0 reviews.
View and/or add reviews, customer ratings
Store link

Go to Büromarkt Böttcher AG website

Delivery to Germany
Delivery methods
Payment methods

Visa credit card
MasterCard credit card
Transfer to an account in Germany
PayPal
By invoice upon receipt of goods
Withdrawal from the account by the seller (Direct debit)
American Express credit card

List of goods
For a list of goods, see the section of goods on our website or in the online store proper.
Description of the Büromarkt Böttcher AG online store:
Büromarkt Böttcher is an online store in Germany offering a wide range of stationery and office supplies for both individuals and companies (B2B). In total, the Böttcher AG assortment embraces more than 150,000 items, including:
cleaning and hygiene items, office food, construction and gardening tools, carbon paper, document folders/ portfolios, office furniture and appliances, ballpoint pens and much more. The online store's products quality is confirmed by well-known brands like: Leitz, Herlitz, Makita, Bosch, Edding, Tesa, HP and others.
The bueromarkt-ag.de online store also puts up for sale used goods, as well as leftovers at low prices.
Büromarkt Böttcher AG online store product categories:
Homeware
Furniture
Sporting goods
Stationery
Reviews, customer opinions about the Büromarkt Böttcher AG online store
- There are no reviews at the moment, be the first to review! -