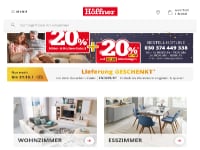 Furniture store Höffner in Germany
Catalogue of online stores in Germany: reviews, delivery, information.
Category: Online stores in Germany
Name
Höffner
Country, address
Schönefeld, Germany
Customer ratings Höffner

0 out of 5 based on 0 rankings and 0 reviews.
View and/or add reviews, customer ratings
Store link

Go to Höffner website

Delivery to Germany
Delivery methods

Self-delivery
DPD
Hermes
Home delivery

Payment methods

Visa credit card
MasterCard credit card
Transfer to an account in Germany
PayPal
Upon receipt of the goods
By invoice upon receipt of goods
Withdrawal from the account by the seller (Direct debit)
American Express credit card

List of goods
For a list of goods, see the section of goods on our website or in the online store proper.
Description of the Höffner online store:
The Höffner online furniture store offers their customers over 100,000 items of products in the categories that follow: furniture for all rooms in the house, interior items, electrical appliances, including refrigerators, dishwashers, kettles, dishes, and much more.
The furniture seller provides a comprehensive range of services related to furniture: lifelong customer service, delivery of goods, furniture assembly, return of retro furniture, installment sale, best price guarantee, etc.
Höffner online store product categories:
Homeware
Dishware
Furniture
Reviews, customer opinions about the Höffner online store
- There are no reviews at the moment, be the first to review! -