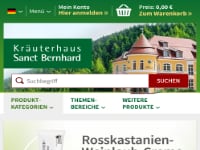 natural remedies and cosmetics Kräuterhaus Sanct Bernhard in Germany
Catalogue of online stores in Germany: reviews, delivery, information.
Category: Online stores in Germany
Name
Kräuterhaus Sanct Bernhard
Country, address
Bad Dietzenbach, Germany
Customer ratings Kräuterhaus Sanct Bernhard

0 out of 5 based on 0 rankings and 0 reviews.
View and/or add reviews, customer ratings
Store link

Go to Kräuterhaus Sanct Bernhard website

Delivery to Germany
The goods are delivered throughout Germany and abroad.
Delivery methods
Payment methods

Visa credit card
MasterCard credit card
PayPal
By invoice upon receipt of goods
Withdrawal from the account by the seller (Direct debit)

List of goods
For a list of goods, see the section of goods on our website or in the online store proper.
Description of the Kräuterhaus Sanct Bernhard online store:
The Kräuterhaus (house of medicinal herbs) Sanct Bernhard online store belongs to a manufacturer of natural health products, including food, nutritional supplements, teas and herbs, oils, dried fruits, beekeeping products, cosmetics and body care products. Besides, here you can buy complexes of vitamins and minerals.
The best, carefully selected, maximally dosed essences and extractions, and naturally occurring active ingredients are used in the products manufacture. A special feature of the store is the sale of sports nutrition, as well as healthy food for animals.
Kräuterhaus Sanct Bernhard online store product categories:
Sporting goods
Food, drinks
Medicines, health products
Cosmetics for women, men and children
Reviews, customer opinions about the Kräuterhaus Sanct Bernhard online store
- There are no reviews at the moment, be the first to review! -