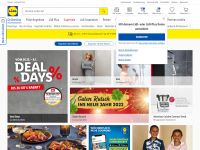 General online store LIDL in Germany
Catalogue of online stores in Germany: reviews, delivery, information.
Category: Online stores in Germany
Name
LIDL
Country, address
Neckarsulm, Germany
Customer ratings LIDL

0 out of 5 based on 0 rankings and 0 reviews.
View and/or add reviews, customer ratings
Store link

Go to LIDL website

Delivery to Germany
Delivery methods
Payment methods

Visa credit card
MasterCard credit card
Transfer to an account in Germany
PayPal
By invoice upon receipt of goods
Withdrawal from the account by the seller (Direct debit)

List of goods
For a list of goods, see the section of goods on our website or in the online store proper.
Description of the LIDL online store:
The LIDL online store is owned by an international discount company in Germany, which has more than 10,000 branches in 32 countries around the world. In the LIDL online store, you can buy various consumer goods: household electrical appliances, furniture and accessories, home textiles, toys, power tools, computers and smartphones.
LIDL online store product categories:
Electronics, computers
Dishware
Homeware
Accessories
Clothes, shoes
Reviews, customer opinions about the LIDL online store
- There are no reviews at the moment, be the first to review! -