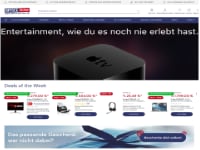 Electronics and office supplies Office Partner in Germany
Catalogue of online stores in Germany: reviews, delivery, information.
Category: Online stores in Germany
Name
Office Partner
Country, address
Gescher, Germany
Customer ratings Office Partner

1 out of 5 based on 1 rankings and 1 reviews.
View and/or add reviews, customer ratings
Store link

Go to Office Partner website

Delivery to Germany
Delivery methods
Payment methods

Visa credit card
MasterCard credit card
Transfer to an account in Germany
PayPal
By invoice upon receipt of goods
Apple Pay
American Express credit card
Amazon Pay

List of goods
For a list of goods, see the section of goods on our website or in the online store proper.
Description of the Office Partner online store:
The Office Partner online store offers a wide range of electronics and office supplies; here you can buy computers, laptops, printers, monitors, multifunction devices, printer ink, consumables, carbon paper, network equipment, as well as other OA machinery. The online store sells products of the following brands: Apple, Samsung, Xerox, Acer, ASUS, HP, BenQ, Brother, Canon, Dell, Epson, Iiyama, Kyocera, Lexmark, LG, OKI, Ricoh, Wirewin, and others.
Office Partner online store product categories:
Reviews, customer opinions about the Office Partner online store
1

Völlige Inkompetenz

(in German) Miserabel: Der 1 Stern ist noch zuviel. Ich habe einen Beamer bestellt und mehrere Tage nichts gehört. Als ich dann nachhakte, wurde mir nur gesagt, dass dieser falsch im Lager eingeordnet sei. Es gab keinerlei Entschuldigung. Dann kam der Beamer endlich und es war der falsche. Da der Typ nicht auf dem Beamer stand, habe ich mit Rückversendung, Montge und Ausrichtung etwa 3 Stunden verloren.

Und dass, nachdem meine Bestellung erst vergessen wurde. Finger weg von diesem Laden...