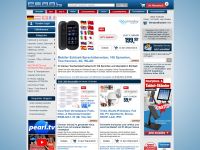 Electronics, household goods, accessories Pearl in Germany
Catalogue of online stores in Germany: reviews, delivery, information.
Category: Online stores in Germany
Name
Pearl
Country, address
Buggingen, Germany
Customer ratings Pearl

1 out of 5 based on 1 rankings and 1 reviews.
View and/or add reviews, customer ratings
Store link

Go to Pearl website

Delivery to Germany
Delivery methods
Payment methods

Visa credit card
MasterCard credit card
Transfer to an account in Germany
PayPal
By invoice upon receipt of goods
Withdrawal from the account by the seller (Direct debit)
American Express credit card

List of goods
For a list of goods, see the section of goods on our website or in the online store proper.
Description of the Pearl online store:
The Pearl.DE online store offers their customers a wide range of commodities, totaling more than 16'000, from the categories that follow: electronics, household and gardening goods, building materials, clothing and accessories, office goods, wares for sports, hobbies and more. A lot of products from the Pearl.DE online store are imported from China and other Oriental countries and have low prices. The online store also publishes a catalogue of current and latest products, which can be ordered or downloaded from the official website.
Pearl online store product categories:
Electronics, computers
Souvenirs
Stationery
Homeware
Accessories
Sporting goods
Reviews, customer opinions about the Pearl online store
1

Невыполнение договоренностей

(in Russian)

Оформила в рассрочку на 3 месяца детский электромобиль.1 месяц сумму на счет вернули, так как не хватило 2 евро, затем пришло письмо ,что в течении этого же месяца вы должны погасить всю сумму!!! Я же не расчитывала на такую сумму! Не красиво, pearl