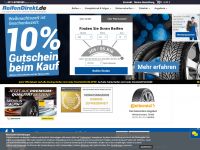 Car tires and rims Delticom, Reifendirekt in Germany
Catalogue of online stores in Germany: reviews, delivery, information.
Category: Online stores in Germany
Name
Delticom, Reifendirekt
Country, address
Hanover, Germany
Customer ratings Delticom, Reifendirekt

0 out of 5 based on 0 rankings and 0 reviews.
View and/or add reviews, customer ratings
Store link

Go to Delticom, Reifendirekt website

Delivery to Germany
Delivery methods
Payment methods

Visa credit card
MasterCard credit card
Transfer to an account in Germany
PayPal
By invoice upon receipt of goods
Withdrawal from the account by the seller (Direct debit)
American Express credit card

List of goods
For a list of goods, see the section of goods on our website or in the online store proper.
Description of the Delticom, Reifendirekt online store:
The Delticom, Reifendirekt company online store sells tires and rims of all sizes and manufacturers. The online store product range embraces the products that follow: tires for cars and trucks and motorcycles, for buses and electric vehicles, car rims, as well as wheels assemblies. When ordering tires, you can choose an automobile workshop where the goods will be delivered and where you can order a tire change for your car.
Delticom, Reifendirekt online store product categories:
Reviews, customer opinions about the Delticom, Reifendirekt online store
- There are no reviews at the moment, be the first to review! -