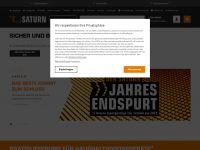 Consumer electronics, audio and video products Saturn in Germany
Catalogue of online stores in Germany: reviews, delivery, information.
Category: Online stores in Germany
Name
Saturn
Country, address
Ingolstadt, Germany
Customer ratings Saturn

0 out of 5 based on 0 rankings and 0 reviews.
View and/or add reviews, customer ratings
Store link

Go to Saturn website

Delivery to Germany
Delivery methods

Self-delivery
Deutsche Post
DHL

Payment methods

Visa credit card
MasterCard credit card
Transfer to an account in Germany
PayPal
Upon receipt of the goods
By invoice upon receipt of goods
American Express credit card

List of goods
For a list of goods, see the section of goods on our website or in the online store proper.
Description of the Saturn online store:
Saturn is one of the largest sellers of electronics and household appliances in the German market, with 140 branches, the largest of which is located in Hamburg, covering 17,000 square meters. In the online store you can buy electronics of various brands, including Saturn's own brands: ok, ISY, PEAQ and KOENIC; electronics of these brands are cheaper.
In the Saturn online store, customers can purchase computers and smartphones, television sets and washing machines, electrical appliances for home and garden, sports and healthy lifestyle, as well as CDs with movies, music and electronic games.
Saturn online store product categories:
Electronics, computers
Sporting goods
Software, games, e-books
Videos, films on CDs and DVDs
Cosmetics for women, men and children
Goods for kids
Audio, music
Stationery
Reviews, customer opinions about the Saturn online store
- There are no reviews at the moment, be the first to review! -