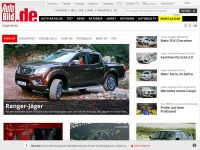 Car exchange, information resource about cars AutoBild.de in Germany
Catalogue of online stores in Germany: reviews, delivery, information.
Category: Car markets
Name
AutoBild.de
Country, address
Berlin, Germany
Customer ratings AutoBild.de

0 out of 5 based on 0 rankings and 0 reviews.
View and/or add reviews, customer ratings
Store link

Go to AutoBild.de website

Delivery to Germany
Delivery and payment for cars are made between the buyer and the seller on the basis of a contract.
Delivery methods
Payment methods
List of goods
For a list of goods, see the section of goods on our website or in the online store proper.
Description of the AutoBild.de online store:
AutoBild.de – This car exchange in Germany ranks third in size after AutoScout24 and mobile.de. The site is owned by the firm that publishes the Auto Bild weekly newspaper. For private individuals who want to sell their car, it is completely free. The site contains a wealth of information about cars, including tests, reviews and other useful information.
The portal also includes a car exchange for the sale of new cars, which is available at http://www.autohaus24.de/ , where you can configure your new car and find the right dealer. The portal does not mediate transactions between sellers and buyers and is a search engine.
AutoBild.de online store product categories:
Reviews, customer opinions about the AutoBild.de online store
- There are no reviews at the moment, be the first to review! -