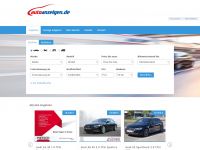 Used car market in Germany AutoAnzeigen.de in Germany
Catalogue of online stores in Germany: reviews, delivery, information.
Category: Car markets
Name
AutoAnzeigen.de
Country, address
Hamburg, Germany
Customer ratings AutoAnzeigen.de

0 out of 5 based on 0 rankings and 0 reviews.
View and/or add reviews, customer ratings
Store link

Go to AutoAnzeigen.de website

Delivery to Germany
Delivery and payment for cars are made by agreement between the buyer and the seller.
Delivery methods
Payment methods
List of goods
For a list of goods, see the section of goods on our website or in the online store proper.
Description of the AutoAnzeigen.de online store:
autoanzeigen.de – this e-commerce site contains advertisements for the sale of vehicles, both used and new. Advertisements that can be posted on the site are placed in dozens of newspapers published throughout Germany, which contain advertisements for the sale of cars from private individuals. Ads are also transmitted to other sites on the Internet. Car sale ad placement is also subject to a fee for private individuals, although the fee is small.
AutoAnzeigen.de online store product categories:
Reviews, customer opinions about the AutoAnzeigen.de online store
- There are no reviews at the moment, be the first to review! -