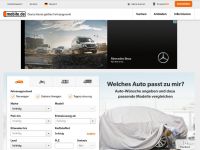 Car market for new and used cars mobile.de in Germany
Catalogue of online stores in Germany: reviews, delivery, information.
Category: Car markets
Name
mobile.de
Country, address
Kleinmachnow, Germany
Customer ratings mobile.de

0 out of 5 based on 0 rankings and 0 reviews.
View and/or add reviews, customer ratings
Store link

Go to mobile.de website

Delivery to Germany
Delivery and payment for cars are made between the buyer and the seller on the basis of a contract.
Delivery methods
Payment methods
List of goods
For a list of goods, see the section of goods on our website or in the online store proper.
Description of the mobile.de online store:
mobile.de – is one of the largest car e-commerce sites or car markets in Germany with over 1 million vehicles, including both used cars from private individuals and new ones from companies in Germany. Anyone can offer their car for sale; private individuals do not pay any fees. The site provides a convenient system to find the right car.
This trading platform does not provide intermediary services for the payment or delivery of the car; in this car market, buyers and sellers independently agree on a deal.
mobile.de online store product categories:
Reviews, customer opinions about the mobile.de online store
- There are no reviews at the moment, be the first to review! -