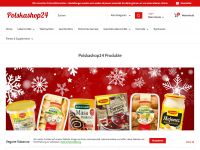 Polish food products and cosmetics Polskashop24 in Germany
Catalogue of online stores in Germany: reviews, delivery, information.
Category: Polish online stores
Name
Polskashop24
Country, address
Berlin, Germany
Customer ratings Polskashop24

0 out of 5 based on 0 rankings and 0 reviews.
View and/or add reviews, customer ratings
Store link

Go to Polskashop24 website

Delivery to Germany
Delivery methods
Payment methods

Visa credit card
MasterCard credit card
Transfer to an account in Germany
PayPal
By invoice upon receipt of goods
Apple Pay
Google Pay
Amazon Pay

List of goods
For a list of goods, see the section of goods on our website or in the online store proper.
Description of the Polskashop24 online store:
Polskashop24 is an online store of Polish food products in Germany, offering a wide array of choices to their customers. In this online store you can buy traditional sausages, dishes of Polish cuisine and Polish delicacies. All food products are distributed under the following categories: drinks and juices, sweets, sauces, pastries, ready meals, instant soups, snacks, canned pies, spices, honey and much more.
Polskashop24 online store product categories:
Cosmetics for women, men and children
Food, drinks
Reviews, customer opinions about the Polskashop24 online store
- There are no reviews at the moment, be the first to review! -