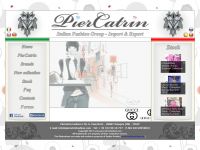 Stock of luxury goods, as well as those of economy class - clothes, shoes, accessories Piercatrin Fashion in Germany
Catalogue of online stores in Germany: reviews, delivery, information.
Category: Stock from Germany
Name
Piercatrin Fashion
Country, address
Italy
Customer ratings Piercatrin Fashion

0 out of 5 based on 0 rankings and 0 reviews.
View and/or add reviews, customer ratings
Store link

Go to Piercatrin Fashion website




The site was not available at the last check.

Delivery to Germany
Delivery time abroad is 2-3 weeks.
Delivery methods
Payment methods

Money transfer to an account in the country of the store

List of goods
For a list of goods, see the section of goods on our website or in the online store proper.
Description of the Piercatrin Fashion online store:
E-tailer of stock of clothes and accessories from Italy. Factory stocks (new collections of clothes) and stocks of outlets - shops, formed by lots, are offered for sale.
Piercatrin Fashion online store product categories:
Clothes, shoes
Accessories
Reviews, customer opinions about the Piercatrin Fashion online store
- There are no reviews at the moment, be the first to review! -