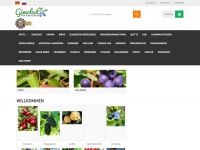 Online store of seedlings Gimolost in Germany
Catalogue of online stores in Germany: reviews, delivery, information.
Category: Russian online stores
Name
Gimolost
Country, address
Boesel, Germany
Customer ratings Gimolost

5 out of 5 based on 4 rankings and 4 reviews.
View and/or add reviews, customer ratings
Store link

Go to Gimolost website

Delivery to Germany
Delivery during the season, usually from March to the end of November within 1-2 days, may be delayed. Free shipping beyond a certain amount.
Delivery methods
Payment methods

Transfer to an account in Germany
PayPal

List of goods
For a list of goods, see the section of goods on our website or in the online store proper.
Description of the Gimolost online store:
Honeysuckle - Online store of seedlings in Germany. The plants offered for sale by the store have high disease rigor and are insect pests resistant. The product mix includes sea buckthorn, honeysuckle, ginseng, magnolia-vine, dogwood, barberry, desert thorn, gynostemma (jiaogulan) and other berry plants.
Gimolost online store product categories:
Reviews, customer opinions about the Gimolost online store
5

Работа магазина

(in Russian)

Супер, все быстро и очень качественно

5

Быстрая доставка

(in Russian)

Все устраивает! Сервис на высоте.

5

Лимонка, Белый Налив

(in Russian) Покупаю уже не раз и всегда это здоровые, красивые саженцы.
Очень довольна и другим рекомендую.

5

Интернет-магазин Жимолость

(in Russian) Очень быстрая доставка, великолепные здоровые саженцы.
Упаковка надежная и прочная.
Рекомендую!