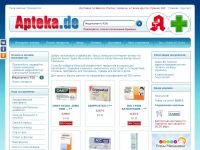 Online pharmacy Apteka in Germany
Catalogue of online stores in Germany: reviews, delivery, information.
Category: Russian online stores
Name
Apteka
Country, address
Lutherstadt Wittenberg, Germany
Customer ratings Apteka

0 out of 5 based on 0 rankings and 0 reviews.
View and/or add reviews, customer ratings
Store link

Go to Apteka website

Delivery to Germany
Delivery in Europe, Russia, Ukraine, as well as other CIS countries
Delivery methods
Payment methods

Visa credit card
MasterCard credit card
Transfer to an account in Germany
PayPal
Withdrawal from the account by the seller (Direct debit)

List of goods
For a list of goods, see the section of goods on our website or in the online store proper.
Description of the Apteka online store:
The online pharmacy in Germany in Russian is a certified representative of pharmaceutical manufacturers in Germany; the pharmacy is included in the pharmacies state register. The range of sales of the pharmacy includes: Medicines, Goods for diabetic patients, care and hygiene products, products for children, sports, medical equipment, books
Apteka online store product categories:
Sporting goods
Medicines, health products
Reviews, customer opinions about the Apteka online store
- There are no reviews at the moment, be the first to review! -