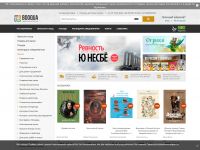 Online book store Booqua, Буква in Germany
Catalogue of online stores in Germany: reviews, delivery, information.
Category: Russian online stores
Name
Booqua, Буква
Country, address
Duisburg, Germany
Customer ratings Booqua, Буква

2 out of 5 based on 3 rankings and 3 reviews.
View and/or add reviews, customer ratings
Store link

Go to Booqua, Буква website




The site was not available at the last check.

Delivery to Germany
Delivery within Germany is free for a certain order amount. Delivery to the EU countries and beyond is also possible.
Delivery methods
Payment methods

Visa credit card
Transfer to an account in Germany
PayPal
Withdrawal from the account by the seller (Direct debit)

List of goods
For a list of goods, see the section of goods on our website or in the online store proper.
Description of the Booqua, Буква online store:
Online store selling Russian books, newspapers and magazines, as well as films and music. The product mix also includes goods for children, postcards and other goods.
Booqua, Буква online store product categories:
Books
Cosmetics for women, men and children
Homeware
Dishware
Goods for kids
Reviews, customer opinions about the Booqua, Буква online store
1

Магазин увы окончательно испортился

(in Russian)

К сожалению кризис сказался и на букве. Сегодня пришлось распрощаться с этим продавцом. Мало того что присылают товар бракованный что в общем то уже было замечено за этим магазином, так теперь не только отказываются принимать возврат брака, но ещё и хамят. Вот это конечно уже совсем печально. Что ж, прощай буква...

5

Интернет-магазин

(in Russian) Здравствуйте, Зинаида!
Как же Вы "красиво" описываете здесь Вашу историю.
Жаль, нам сообщили об этом отзыве только сейчас.
Прекрасно помним Ваш заказ, так как в истории магазина такое случилось впервые, а работаем мы уже 11 лет. Вы заказали у нас наклейки на клавиатуру, которые были Вам незамедлительно отправлены без предварительной оплаты. После этого Вы связались с нами, и сказали, что Вы находите сумму за доставку слишком высокой, и оплачивать ее не собираетесь, хотя сумма доставки у нас стандартная, и ее невозможно не заметить при оформлении заказа. Мы предложили Вам вернуть заказ, если Вы не удовлетворены нашими услугами. На что Вы нам ответили, что возвращать ничего не собираетесь, и оплачивать также. Естественно, Вы получаете Манунги , на которые впрочем не реагируете и заказ до сих пор не оплачен. Никаких дополнительных обращений в наш магазин с Вашей стороны с жалобами на качество товара не поступало. Мы всегда возвращаем деньги, если клиент имеет претензии к качеству товара. Не имеем понятия, чем мы Вам так насолили, чтобы оставлять подобные комментарии относительно нашего магазина.

1

НАКЛЕЙКИ

(in Russian) Отвратительного качества: через неделю пользования образовались белые пятна.
Более того, стоимость оказалась выше, чем информация при заказе. Кроме всего, написали такие
СВОИ банковские реквизиты,что оплата не могла состояться. Теперь в течении года требуют всё
растущую оплату за свою недобросовестную,мягко говоря,работу. ДЕРЖИТЕСЬ ПОДАЛЬШЕ ОТ
ЭТОГО МАГАЗИНА!