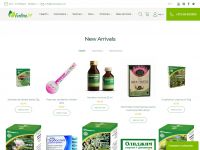 Cosmetics store / Beauteria EveLine24 in Germany
Catalogue of online stores in Germany: reviews, delivery, information.
Category: Russian online stores
Name
EveLine24
Country, address
Maardu, Germany
Customer ratings EveLine24

4 out of 5 based on 8 rankings and 8 reviews.
View and/or add reviews, customer ratings
Store link

Go to EveLine24 website

Delivery to Germany
Delivery 7-9 days from the date of receipt of payment. Insured shipment, cash on delivery. Payment by invoice is possible upon receipt of the goods (onwards of the third purchase)
Delivery methods
Payment methods

Transfer to an account in Germany
PayPal
Money transfer to an account in the country of the store
Upon receipt of the goods
By invoice upon receipt of goods

List of goods
For a list of goods, see the section of goods on our website or in the online store proper.
Description of the EveLine24 online store:
Russian online store, cosmetics and health products, gifts and souvenirs. Delivery within Germany, to the European Union, America (the USA) and Canada.
EveLine24 online store product categories:
Medicines, health products
Cosmetics for women, men and children
Reviews, customer opinions about the EveLine24 online store
5

Отзыв об интернет магазине

(in Russian)

Широкий ассортимент косметики и добавок Заказываю последние 10 лет,получила посылку за 8 дней.Без всяких проблем.

1

Мошенники!

(in Russian)

Будьте внимательны, это сайт мошенников. Сделала у них заказ, оплатила, деньги ушли, и тишина. Ни заказа, ни денег. Обращалась неоднократно к продавцу, в ответ - игнорирование.

1

Связь

(in Russian) Попыталась дозвониться по номеру, указанному в сайте:
+37258803380
Дозвониться не смогла-не берут трубку! Кроме того, на сайте указана форма оплаты : 100% предоплата! А если у меня большой заказ на 300-400 евро, где гарантии? Все подозрительно!

5

Liferung

(in German)

Schon zweite Woche Ich kann nicht meine Bestelung bekommen. 04.08.2020

1

Страничка, контакт, заказ

(in Russian)

Очень странная страница, нет защиты, сразу идут предупреждения, заказ сделать невозможно.... звонить с указанного платного номера- не указана цена минуты! Всё очень подозрительно!

5

Контакт eveline24

(in Russian) +49(0)214-31269213
Такого номера не существует, поставьте правильный контакт, чтоб заинтересованые дяди могли с вами связаться.Сайт вызывает большие сомнения, по поводу ложных данных.

5

Очень хороший магазин

(in Russian) Здравствуйте! Меня зовут Тахир. Я работаю в фирме "EXPOSER" в Узбекистане, которая занимаеться доставкой грузов и посылок.
Есть ли у вас представительство вашей компании в Узбекистане? Пришлите мне адрес и телефон вашего офиса в Ташкенте, Узбекистане.

5

Интернет-магазин, доставка

(in Russian) Очень хороший магазин, солидный ассортимент. Быстрая доставка.