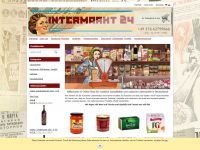 Online store of Russian food products Intermarkt 24 in Germany
Catalogue of online stores in Germany: reviews, delivery, information.
Category: Russian online stores
Name
Intermarkt 24
Country, address
Berlin, Germany
Customer ratings Intermarkt 24

2 out of 5 based on 6 rankings and 6 reviews.
View and/or add reviews, customer ratings
Store link

Go to Intermarkt 24 website

Delivery to Germany
Delivery in Germany and the EU countries. Shipping cost depends on the country of the buyer and the weight of the parcel. Delivery time in Germany is 3,4 days.
Delivery methods
Payment methods

Transfer to an account in Germany
PayPal
By invoice upon receipt of goods

List of goods
For a list of goods, see the section of goods on our website or in the online store proper.
Description of the Intermarkt 24 online store:
Online store of Russian food and drinks in Germany: snacks, pastries, sausage and canned food. Besides food products, the assortment also includes cosmetics, dishes, herbs, books and much more. The store holds special promotions, offers discounts for food products.
Intermarkt 24 online store product categories:
Books
Food, drinks
Medicines, health products
Dishware
Cosmetics for women, men and children
Reviews, customer opinions about the Intermarkt 24 online store
1

Kekse "Choco-Pie" 4st x 30g

(in Russian) Заказ полностью не соответствует описанию и фото на сайте.
Возврат в установленные законом сроки не принимают, не дозвониться, на e-mail и запрос не отвечают.
Полный игнор.
Остался большой, негативный осадок!
Очень жаль!

4

Онлайн-заказ, доставка

(in Russian) Заказываю в этом магазине не первый раз. Доставка в течение 3-х дней. Без проблем. В последний раз не положили горчицу(видимо закончилась на складе). В течение 2х дней получила деньги за горчицу обратно БЕЗ напоминаний и каких-либо телодвижений с моей стороны(платила пэйпалом).
Образцовопоказательно по сравнению со многими онлайн магазинами!
Единственное при заказе майонеза не всегда удается попасть со сроком хранения. Некоторые еще 2 месяца годны к употреблению, другие 5-6. Фортуна-лотерея????...

1

Доставка, сервис, онлайн-заказы

(in Russian) Владельцы чистят отзывы на своём сайте и оставляют только немногие положительные. Более менее правду вы можете прочитать здесь. ОТВРАТИТЕЛЬНЫЙ сервис и онлайн заказы. Посылка из Берлина (внимание!) в Берлин идёт больше недели. Сайт написан восьмиклассником на коленке, трекинг номер отслеживание заказа компания не отправляет, посылки теряются в дороге. Оплата организована из рук вон плохо — надо отправлять деньги вручную на имя владельца.

Я не знаю как работает обычный магазин, который не онлайн, но доставка — лютый ужас. Наихудший опыт.

5

Доставка, общение с продавцом

(in Russian) Все на высшем уровне, с продавцом легко вести диалог, идет на встречу.
Продукты отличные, упаковано достойно. Доставка быстрая, 3 дня во Францию!
Спасибо!

1

Доставка и упаковка продуктов и отношение к покупателю

(in Russian) Расценки на доставку в Италию 20 евро за 30кг. Заказал один раз, из 8 ми банок - у 4х погнутые крышки, все содержимое вытекло...... ну ладно думаю, может упаковщик пяный попался. Хотел заказать еще, заказываю 11 банок по 2650 мл смотрю доставку 40 евро, убавил банки всеравно 40 евро, дошел до 7 банок выбило 20 евро, где же правда?
Написал в отзывы, через 4 часа мой отзыв исчез, написал еще один, его тоже удалили. Ну что можно подумать об этой организации? Да продукцию они продают вкуссную, но не они ее делают, они просто посредники.
Почему-то ассортимент товара, цены, доставка, все на Русском, а правила возврата на Немецком. Да фирма зарегестрирована в Германии но вы же торгуете по всей Европе, или у вас нету 10 евро на перевод этого документа? Мы знаем что все так задумано, меньше люди читают - меньше знают. Я человек не конфликтный, но если вы удаляете отзывы, в которых вам указывают на ваши недостатки, мы пойдем другим путем, через налоговую полицию, я думаю 2-3 жалобы им достаточно чтобы потрепать вам нервы.

1

On-line service

(in Russian)

Really bad! Order never came, they provided refund without any explanation or apology.