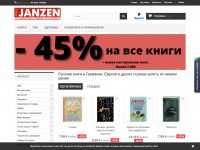 Online store of Russian books Janzen Shop in Germany
Catalogue of online stores in Germany: reviews, delivery, information.
Category: Russian online stores
Name
Janzen Shop
Country, address
Hohenberg, Germany
Customer ratings Janzen Shop

1 out of 5 based on 2 rankings and 2 reviews.
View and/or add reviews, customer ratings
Store link

Go to Janzen Shop website

Delivery to Germany
Delivery of books in Germany
Delivery methods
Payment methods
List of goods
For a list of goods, see the section of goods on our website or in the online store proper.
Description of the Janzen Shop online store:
Online store of the Janzen, selling Russian books of various categories, as well as CDs, DVDs with films and music in Russian.
Janzen Shop online store product categories:
Books
Medicines, health products
Videos, films on CDs and DVDs
Cosmetics for women, men and children
Audio, music
Reviews, customer opinions about the Janzen Shop online store
1

ВСЁ

(in Russian) !!!! ВНИМАНИЕ !!! !!!! ВНИМАНИЕ !!! !!!! ВНИМАНИЕ !!!
!!! ПОЖАЛУЙСТА, НИЧЕГО НЕ ЗАКАЗЫВАЙТЕ – ПРОСТО УЖАСНЕЙШЕЯ ОРГАНИЗАЦИЯ!!!

Товар прибывает с задержкой порченый
Качество ужасное

Детские игры НЕ работают так, как должны

Отдел обслуживания клиентов и жалоб ...
... не доступен...
... вы не получаете отзывов на письменные запросы или жалобы
... очень сложно дозвониться по телефону ... сотрудники вас не понимают ... они просто говорят ... "ничего не понимаю, позвоните позже" ... когда вы спрашиваете "когда?" – просто кладут трубку!!! - !!! Это "СУПЕР ОБСЛУЖИВАНИЕ КЛИЕНТОВ"!!!

Магазин на самом деле где-то в ЧЕХИИ ...

когда вы наконец дозвонились по телефону ... Сотрудники не могут предоставить никакой информации ... они связывают вас от одного сотрудника к другому, БЕЗ решения проблем!!!
Вам говорят, что «запрос будет рассмотрен и направлен в отдел жалоб, и вы получите ответ!» - через несколько недель ничего не происходит - вы снова напоминаете о себе и понимаете или вам сообщают, что звонок НЕ был записан или переадресован! ... потом всё это начинается заново ...

Я много лет заказываю онлайн, НО ТАКОГО НЕ ВИДЕЛА НЕ В ОДНОМ ШОПЕ

!!! ПОЖАЛУЙСТА, НИЧЕГО НЕ ЗАКАЗЫВАЙТЕ – ПРОСТО УЖАСНЕЙШЕЯ ОРГАНИЗАЦИЯ!!!

1

Доставка и цены

(in Russian)

В каталоге написано одно, а в Интернете онлайн, другое.