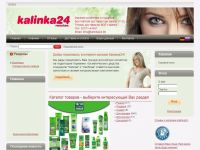 Online store of cosmetics and gifts Kalinka in Germany
Catalogue of online stores in Germany: reviews, delivery, information.
Category: Russian online stores
Name
Kalinka
Country, address
Iserlohn, Germany
Customer ratings Kalinka

0 out of 5 based on 0 rankings and 0 reviews.
View and/or add reviews, customer ratings
Store link

Go to Kalinka website




The site was not available at the last check.

Delivery to Germany
Delivery within Germany and EU countries, for a certain order amount delivery is free
Delivery methods
Payment methods

Transfer to an account in Germany
PayPal
By invoice upon receipt of goods
Withdrawal from the account by the seller (Direct debit)

List of goods
For a list of goods, see the section of goods on our website or in the online store proper.
Description of the Kalinka online store:
Online store of Ukrainian and Belarusian cosmetics and original gifts in Germany. The Kalinka store offers cosmetics by the Kalina and Svoboda concerns, which are famous for their high quality and natural ingredients.
Kalinka online store product categories:
Medicines, health products
Cosmetics for women, men and children
Reviews, customer opinions about the Kalinka online store
- There are no reviews at the moment, be the first to review! -