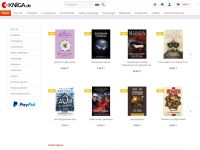 Online book store kniga.de in Germany
Catalogue of online stores in Germany: reviews, delivery, information.
Category: Russian online stores
Name
kniga.de
Country, address
Reddeber, Germany
Customer ratings kniga.de

5 out of 5 based on 7 rankings and 7 reviews.
View and/or add reviews, customer ratings
Store link

Go to kniga.de website

Delivery to Germany
Delivery of the order within Germany, by and beyond a minimum order amount - free delivery. Delivery to other countries is also available.
Delivery methods
Payment methods

Visa credit card
MasterCard credit card
Transfer to an account in Germany
PayPal
By invoice upon receipt of goods
Apple Pay
Google Pay
American Express credit card

List of goods
For a list of goods, see the section of goods on our website or in the online store proper.
Description of the kniga.de online store:
Russian books, films and music in the online store in Germany
kniga.de online store product categories:
Reviews, customer opinions about the kniga.de online store
5

Заказ и доставка

(in Russian) Знаю сайт уже очень давно.
Очень довольна его услугами.
Быстрая доставка, своевременное оповещение.
Спасибо

5

Общее

(in Russian)

Отличный магазин. Прекрасный выбор и сервиз. Заказывали не раз и всегда оставались довольны! Очень довольны.

5

Заказ и доставка

(in Russian)

Заказал 2 книги, оплатил PayPal, через 1 день уже доставили. Упаковка, сам товар - все отлично. Спасибо.

5

Магазин

(in Russian)

Доставка меньше чем за 24 часа с момента заказа! Спасибо, мы очень довольны!

5

доставка

(in Russian)

Доставляют на следующий день или через день, быстрее некуда.

4

Общее

(in Russian)

Знаю этот сайт больше 13 лет, никогда не подводили, доставка по Европе сверх всех ожиданий

5

Заказ и доставка товара

(in Russian)

Заказали несколько дисков с русскими фильмами, доставка была сделана очень быстро, через 2 дня посылка уже была у нас, хотя при заказе было сообщение, что товара нет на складе и отправят в течение 7-ми дней. Вообщем все понравилось: большой выбор дисков и цены нормальные. Рекомендую.