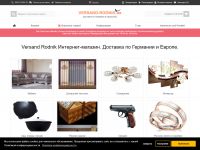 Online store of Russian goods Rodnik in Germany
Catalogue of online stores in Germany: reviews, delivery, information.
Category: Russian online stores
Name
Rodnik
Country, address
Speyer, Germany
Customer ratings Rodnik

5 out of 5 based on 1 rankings and 1 reviews.
View and/or add reviews, customer ratings
Store link

Go to Rodnik website

Delivery to Germany
Delivery within Germany, the European Union.
Delivery methods
Payment methods

Transfer to an account in Germany
PayPal
Upon receipt of the goods
By invoice upon receipt of goods

List of goods
For a list of goods, see the section of goods on our website or in the online store proper.
Description of the Rodnik online store:
Online store of Russian goods in Germany: household goods, health goods, jewelry and clothing
Rodnik online store product categories:
Homeware
Jewelry
Clothes, shoes
Souvenirs
Sporting goods
Reviews, customer opinions about the Rodnik online store
5

Реклама магазина

(in Russian)

Здравстсвуйте, уважаемые дамы и госпада, если вы даёте свой контактный телефон 06236 449830, так почему же он не актуален. С переездом были утеряны Ваши проспекты ну как правило Ваши данные. А на даном сайте других Ваших данных нет.