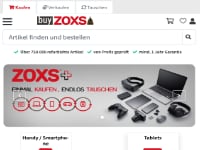 Selling and buying second-hand items Buyzoxs in Germany
Catalogue of online stores in Germany: reviews, delivery, information.
Category: Second-hand
Name
Buyzoxs
Country, address
Wesel, Germany
Customer ratings Buyzoxs

5 out of 5 based on 1 rankings and 1 reviews.
View and/or add reviews, customer ratings
Store link

Go to Buyzoxs website

Delivery to Germany
Delivery methods
Payment methods

Visa credit card
Transfer to an account in Germany
PayPal
By invoice upon receipt of goods
Withdrawal from the account by the seller (Direct debit)

List of goods
For a list of goods, see the section of goods on our website or in the online store proper.
Description of the Buyzoxs online store:
The Buyzoxs Germany-based online store offers their customers the purchase, sale and exchange of second-hand items, including electronics, electrical appliances for the home use, as well as entertainment: books, CDs with movies and music, games for children and other goods.
The online store offers free dispatch, when buying goods for a certain minimum amount.
Used items are controlled by the online store employees and are subdivided into the categories: new, as new, good, normal/ up to par and others. For the purchase of certain goods types, the store issues a one-year warranty; besides, some bonuses are provided for the repeat purchasing of goods from this online store. Bbuyzoxs runs specials, offers various promotions, discounts and sales.
Buyzoxs online store product categories:
Books
Goods for kids
Audio, music
Electronics, computers
Homeware
Videos, films on CDs and DVDs
Reviews, customer opinions about the Buyzoxs online store
5

Покупка подержанных смартфонов в Buyzoxs

(in Russian)

Однажды покупал для ребенка смартфон iPhone 7 Max 128 mb, купил из категории "wie neu", цена почти в 2 раза меньше, чем нового, состояние батареи было почти 100%. Сын пользуется уже 2 года, проблем нет. Так что рекомендую.