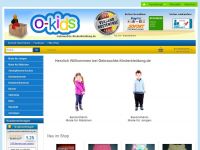 Online store of Second-hand children's clothing in Germany O-Kids in Germany
Catalogue of online stores in Germany: reviews, delivery, information.
Category: Second-hand
Name
O-Kids
Country, address
Mönchengladbach, Germany
Customer ratings O-Kids

5 out of 5 based on 1 rankings and 1 reviews.
View and/or add reviews, customer ratings
Store link

Go to O-Kids website




The site was not available at the last check.

Delivery to Germany
Free delivery within Germany, when ordering for a certain minimum amount, 1-2 business days
Delivery methods
Payment methods

Transfer to an account in Germany
PayPal
By invoice upon receipt of goods

List of goods
For a list of goods, see the section of goods on our website or in the online store proper.
Description of the O-Kids online store:
Second-hand children's clothing in the O-Kids online store, the clothes are checked, of high quality. As well as toys, books and other children's goods.
O-Kids online store product categories:
Goods for kids
Clothes, shoes
Accessories
Reviews, customer opinions about the O-Kids online store
5

second hand

(in Russian) Hallo, wir offnen unsere Second Hand und mochten bei Ihnen Kleidung bestellen. CREAM schreiben, wie. Konnen Sie Kleidung fur weniger als 1000 Tonnen und wie viel weniger kaufen? Konnen Sie mir bei der Lieferung von Kleidung in die Tschechische Republik helfen? Ich werde versuchen, ein Auto zu finden, das um in die Tschechische Republik zu bringen Ich habe keine Maschine von Ihnen, welche Firma konnte ich aus Deutschland in die Tschechische Republik bringen? Danke, ich werde auf Ihre Antwort warten

Viktor Satra