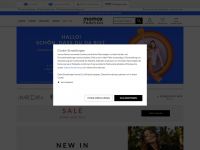 Online store of second-hand, as well as of used books and CDs Momox AG in Germany
Catalogue of online stores in Germany: reviews, delivery, information.
Category: Second-hand
Name
Momox AG
Country, address
Berlin, Germany
Customer ratings Momox AG

0 out of 5 based on 0 rankings and 0 reviews.
View and/or add reviews, customer ratings
Store link

Go to Momox AG website

Delivery to Germany
Free delivery in Germany, as well as delivery in Europe
Delivery methods
Payment methods

Visa credit card
MasterCard credit card
PayPal
By invoice upon receipt of goods
Withdrawal from the account by the seller (Direct debit)
American Express credit card
Amazon Pay

List of goods
For a list of goods, see the section of goods on our website or in the online store proper.
Description of the Momox AG online store:
Momox is an online e-commerce site for the sale of used clothing, books, CDs with movies and games, and music. This site is an intermediary in the sale of second-hand clothing and other used items. The sale is carried out on the momox.biz website.
Momox AG online store product categories:
Books
Accessories
Videos, films on CDs and DVDs
Clothes, shoes
Reviews, customer opinions about the Momox AG online store
- There are no reviews at the moment, be the first to review! -