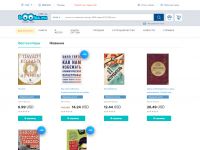 Online book store Books.ru in Germany
Catalogue of online stores in Germany: reviews, delivery, information.
Category: Stores with delivery to Germany
Name
Books.ru
Country, address
Москва, Russia
Customer ratings Books.ru

0 out of 5 based on 0 rankings and 0 reviews.
View and/or add reviews, customer ratings
Store link

Go to Books.ru website

Delivery to Germany
Delivery can optionally be done by surface or air mail. Payment can be made to the bank account of the online store in Germany.
Delivery methods
Payment methods

Visa credit card
MasterCard credit card
Transfer to an account in Germany
PayPal
Money transfer to an account in the country of the store
Webmoney

List of goods
For a list of goods, see the section of goods on our website or in the online store proper.
Description of the Books.ru online store:
Books.ru - is the first online book store in Russia, which has existed for over 30 years. The store sells and delivers books to many countries around the world, including Germany. In Germany, this e-tailer has a bank account to which you can transfer money for orders free of charge. The airmail delivery is very fast. Besides books, the store also sells music, games and software on CDs.
Books.ru online store product categories:
Books
Software, games, e-books
Videos, films on CDs and DVDs
Audio, music
Reviews, customer opinions about the Books.ru online store
- There are no reviews at the moment, be the first to review! -