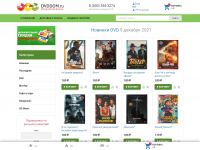 Online store of films and music DVDDOM in Germany
Catalogue of online stores in Germany: reviews, delivery, information.
Category: Stores with delivery to Germany
Name
DVDDOM
Country, address
Russia
Customer ratings DVDDOM

5 out of 5 based on 2 rankings and 2 reviews.
View and/or add reviews, customer ratings
Store link

Go to DVDDOM website

Delivery to Germany
Airmail delivery within 10-30 days
Delivery methods

Air Mail
Internet download

Payment methods

Money transfer to an account in the country of the store
Upon receipt of the goods

List of goods
For a list of goods, see the section of goods on our website or in the online store proper.
Description of the DVDDOM online store:
Online store of CDs and DVDs containing music, films, audiobooks. It offers a huge number of discs with films of all kinds of genres: Russian cinema, detective stories, historical films, documentaries, comedies, cartoons, adventures, science fiction. The store also offers discs with games and computer programs for sale.

First of all, most of the movies on the store's website can be downloaded at high speed for a small fee. When downloading movies, you can pay via WebMoney or by sending an SMS from your mobile phone. When paying via an SMS, the buyer receives a code that has to be entered on the download site. As reported on the store's website, the downloaded movies are intended for personal viewing and subsequent deletion.

If you decide to buy discs in order to save on delivery charges, you'd better order more discs at once, you can invite your friends to make a joint order. The delivery cost depends on the number of discs. The store offers cumulative quantity discounts, after the purchase of 30 discs, you'll be offered a 5% discount; upon purchasing 100 discs, the subsequent price will be 10% less!

The payment method suitable for residents of Germany is one of the payment systems: Western Union and others. According to the information of the online store, after processing the order, you will receive a letter indicating the amount and a deion of the payment options. If you choose to transfer money through Western Union (WU), go to any WU branch, fill out the transfer form, pay, and then you will be provided with the transfer code. You will be required to provide this code, the exact address and full name of the sender. Immediately after receiving the money, your order will be sent to you. However, you can pay in Western Union without leaving your computer. By registering on the official Western Union website, you indicate where and to whom you are sending the payment and your credit card, from which the money will automatically be withdrawn and transferred to the recipient specified. A small fee is also required for a Western Union money transfer.

According to the online store information, the delivery time outside Russia is usually 10 - 30 days, depending on the remoteness of the delivery region.
DVDDOM online store product categories:
Videos, films on CDs and DVDs
Audio, music
Software, games, e-books
Reviews, customer opinions about the DVDDOM online store
5

Musik

(in German)

Danke mir gefählt das sehr ich bin dankbar

5

О магазине CinemaSearch

(in Russian) Узнал, что в магазине CinemaSearch появилась возможность скачивать фильмы, обходится примерно 50 центов, очень быстро напрямую. Сначала нужно внести деньги электронной валютой, а потом вибираешь и качаешь, при хорошей скорости Интернета закачивается за пол часа один фильм.
Всем рекомендую, есть и фантастика и мультики для детей и документальные и сериалы.