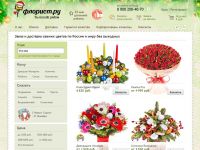 Online flower shop Florist.RU in Germany
Catalogue of online stores in Germany: reviews, delivery, information.
Category: Stores with delivery to Germany
Name
Florist.RU
Country, address
Moscow, Russia
Customer ratings Florist.RU

0 out of 5 based on 0 rankings and 0 reviews.
View and/or add reviews, customer ratings
Store link

Go to Florist.RU website

Delivery to Germany
Delivery time depends on the country and the method of sending flowers and may take 1 day and over
Delivery methods
Payment methods

Visa credit card
MasterCard credit card

List of goods
For a list of goods, see the section of goods on our website or in the online store proper.
Description of the Florist.RU online store:
Online store selling exclusive bouquets and floral arrangements, with delivery of bouquets all over the world, including Germany, where Florist.ru cooperates with a number of flower shops in many German cities.
Florist.RU online store product categories:
Reviews, customer opinions about the Florist.RU online store
- There are no reviews at the moment, be the first to review! -