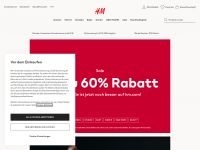 Fashion, textiles, household goods H&M in Germany
Catalogue of online stores in Germany: reviews, delivery, information.
Category: Stores with delivery to Germany
Name
H&M
Country, address
Stockholm, Sweden
Customer ratings H&M

0 out of 5 based on 0 rankings and 0 reviews.
View and/or add reviews, customer ratings
Store link

Go to H&M website

Delivery to Germany
Delivery methods
Payment methods

Visa credit card
MasterCard credit card
Transfer to an account in Germany
PayPal
By invoice upon receipt of goods
American Express credit card

List of goods
For a list of goods, see the section of goods on our website or in the online store proper.
Description of the H&M online store:
H&M (or Hennes & Mauritz) is a Swedish company that sells women's, men's and children's clothing and footwear, as well as accessories, cosmetics and household goods by retail and online. The H&M ("H und M") online stores sell products of their own brands in many countries of the world, about a quarter of sales falls to the share of Germany. The company's main slogan is "Fashion and quality at the best price".
The Germany-based H&M online store presents clothes for all occasions, for any season and any size; here you can buy jackets, sweaters, trousers, dresses, as well as underwear and accessories.
H&M online store product categories:
Homeware
Accessories
Clothes, shoes
Furniture
Reviews, customer opinions about the H&M online store
- There are no reviews at the moment, be the first to review! -