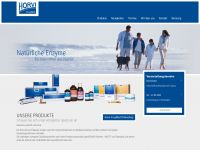 Horvi enzyme preparations Horvi EnzyMed in Germany
Catalogue of online stores in Germany: reviews, delivery, information.
Category: Stores with delivery to Germany
Name
Horvi EnzyMed
Country, address
Hoogvliet, Netherlands
Customer ratings Horvi EnzyMed

0 out of 5 based on 0 rankings and 0 reviews.
View and/or add reviews, customer ratings
Store link

Go to Horvi EnzyMed website

Delivery to Germany
The preparations are delivered to the EU countries.
Delivery methods
Payment methods

Transfer to an account in Germany
PayPal
By invoice upon receipt of goods
Withdrawal from the account by the seller (Direct debit)

List of goods
For a list of goods, see the section of goods on our website or in the online store proper.
Description of the Horvi EnzyMed online store:
The Horvi enzyme preparations manufacturer online store trades in their own products good for health and treatment. The products are manufactured according to the original recipe of the pharmacologist and chemist, Dr. Waldemar Diesings; according to the online store, the quality and compliance with standards is controlled by the Dutch Ministry of Health, Welfare and Sport. The Horvi-EnzyMed preparations are offered for everyone aspiring to preserve or build up their health in a natural way. The support service of the online store provides for comprehensive free-of-charge consultations.
Horvi EnzyMed online store product categories:
Medicines, health products
Reviews, customer opinions about the Horvi EnzyMed online store
- There are no reviews at the moment, be the first to review! -