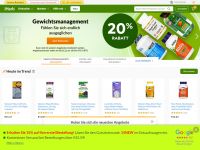 Health and wellness products iHerb in Germany
Catalogue of online stores in Germany: reviews, delivery, information.
Category: Stores with delivery to Germany
Name
iHerb
Country, address
California, United States
Customer ratings iHerb

0 out of 5 based on 0 rankings and 0 reviews.
View and/or add reviews, customer ratings
Store link

Go to iHerb website

Delivery to Germany
When ordering from the online store, the following payment methods are suitable for the residents of Germany: PayPal and credit cards. When placing an order, the buyer can immediately learn the approximate delivery time of the goods.
Delivery methods
Payment methods

Visa credit card
MasterCard credit card
Transfer to an account in Germany
PayPal
American Express credit card

List of goods
For a list of goods, see the section of goods on our website or in the online store proper.
Description of the iHerb online store:
The iHerb online store focuses on selling natural products for health and wellness; the merchandise offering is aimed at residents of all countries, the website of the iHerb online store is entirely translated into German and provides payment and delivery methods suitable for buyers from Germany as well.
When ordering goods from the USA, customs fees shall apply, depending on the type and cost of the order. The iHerb online store usually provides information about the amount of additional fees and taxes during the checkout process.
The online store offers a wide range of commodities, of more than 30,000 items fitting under the categories that follow: food products, nutritional supplements, herbs, homeopathy, vitamins and minerals, oils, makeup, body care, baby food and others.
iHerb online store product categories:
Sporting goods
Medicines, health products
Cosmetics for women, men and children
Reviews, customer opinions about the iHerb online store
- There are no reviews at the moment, be the first to review! -