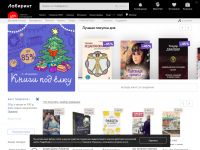 Online book store Labirint in Germany
Catalogue of online stores in Germany: reviews, delivery, information.
Category: Stores with delivery to Germany
Name
Labirint
Country, address
Moscow, Russia
Customer ratings Labirint

0 out of 5 based on 0 rankings and 0 reviews.
View and/or add reviews, customer ratings
Store link

Go to Labirint website

Delivery to Germany
The online store delivers goods anywhere in the world, the delivery time with DHL is from 4 to 9 days, with regular mail up to 4 weeks.
Delivery methods
Payment methods
List of goods
For a list of goods, see the section of goods on our website or in the online store proper.
Description of the Labirint online store:
Labirint LLC is the largest online store, as well as a bookselling and publishing holding located in Moscow and selling goods to various European countries, including Germany. As of this information placement date, the store offers over 150 000 books for sale. Ordering books is also possible by phone and e-mail.
Labirint online store product categories:
Books
Goods for kids
Stationery
Reviews, customer opinions about the Labirint online store
- There are no reviews at the moment, be the first to review! -