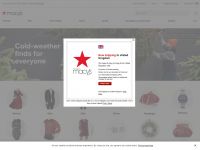 Clothing and footwear, household goods, cosmetics Macy's in Germany
Catalogue of online stores in Germany: reviews, delivery, information.
Category: Stores with delivery to Germany
Name
Macy's
Country, address
New York, United States
Customer ratings Macy's

0 out of 5 based on 0 rankings and 0 reviews.
View and/or add reviews, customer ratings
Store link

Go to Macy's website

Delivery to Germany
The online store provides payment and delivery methods suitable for buyers from Germany; taxes and customs duties are calculated when placing an order.
Delivery methods
Payment methods
List of goods
For a list of goods, see the section of goods on our website or in the online store proper.
Description of the Macy's online store:
Macy's is a well-known chain of department stores in the United States, with more than 700 branches. The online store is focused on selling fashionable, inexpensive and high-quality goods, including men's and women's clothing, footwear, household goods, textiles amongst other things, as well as jewelry and cosmetics. The product range of the online store includes such brandsas: Macy's, Bloomingdale's and Bluemercury.
The Macy's online store provides for sales to many countries of the world, Germany among them. In the process of ordering goods from the online store, there takes place the calculation of taxes and customs duties that have to be paid when ordering, as well as approximate delivery times are determined.
Macy's online store product categories:
Homeware
Accessories
Clothes, shoes
Jewelry
Reviews, customer opinions about the Macy's online store
- There are no reviews at the moment, be the first to review! -